You have 14 days to return an item from the date received. Please refer to the chart below, whether the goods still can be returned, and which party is responsible for the shipping fees.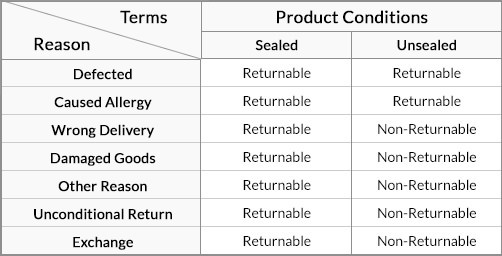 Following are non-refundable merchandise
‣
Items received more than 14 days.
‣
A used or unsealed product, except certain stated conditions
‣
Product not sold by BEAUTYSTALL.com
‣
Product damaged by buyer.
‣
Product with missing part.
‣
Free gift and samples.
‣
Due to health and hygiene reason, we are unable to exchange or refund for all the shapewear products.
‣
Fragrance products (such as diffuser, perfume) are not refundable/exchangeable due to the reason of displeasure with the scent/personal fragrance allergy.
‣
All the allergy claims required relevant medical certification to proceed with the refund/exchange.
If refund is needed during return process, we'll debit into your BEAUTYSTALL.com account credit. The credit can be used to pay for your next order or you may choose to withdraw into bank account.
Please keeps return shipping receipt properly. We will only pay flat rate at RM6/shipping without present of receipt.
Please contact our customer service via email at beautystall@live.com or WhatsApp 010-8200780 during office hours (Mon-Fri 9 am-5 pm) for return requests.
In the event of dispute, the decision of BEAUTYSTALL.com shall be final and conclusive.